The wonderful weather of Fall in Southern Nevada means good times in outdoor space  and that is the Valley of Fire State Park.
The rock formations are geologically stunning red rocks are clustered in the state park about an hour north of Las Vegas, and along the far reaches of Northshore Road in Lake Mead National Recreation Area.
Valley of Fire State Park
For many Nevadans, the Valley of Fire is where they first saw desert bighorn sheep and petroglyph panels. The Valley of Fire is among the most reliable locations in Southern Nevada to watch the official state animal climbing and foraging in the wild. And prehistoric petroglyphs come into view within minutes of stepping foot on Mouse's Tank Trail while there.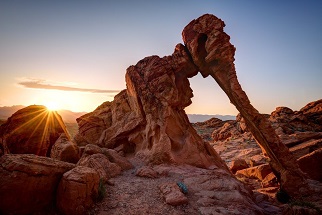 The Valley of Fire has so many rock formations – one of its most famous formations is Elephant Rock.
There are 2,000-year-old petroglyphs are exceedingly accessible via a short hike from the parking lot at Mouse's Tank/Petroglyph Canyon trailhead. For those seeking close-up views of higher rock art panels, there are stairs to climb to see Anasazi petroglyphs at Atlatl Rock.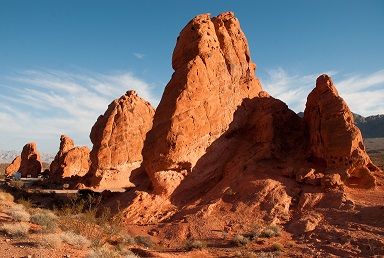 There are many covered picnic spots and that were built adjacent to remarkable sandstone formations such as Seven Sisters and those across from Petroglyph Canyon. Some family members can rest while others explore nearby sandstone windows, holes and an occasional arch.
Directions and costs: Valley of Fire State Park is located about 50 miles northeast of Las Vegas, and most of the one hour's travel time (traffic dependent) is spent on Interstate 15. Follow the interstate signs to the Valley of Fire turnoff and onto Valley of Fire Highway/state Route 169, a two-lane road through Mojave Desert scrubland that becomes scenic on the final approach to the park. Entrance is $10 for the day for vehicles with Nevada license plates ($15 for all others), unless you have an annual pass.
For more: parks.nv.gov/parks/valley-of-fire
There are at least three strategies for a Bowl of Fire adventure. The Northshore Summit Trail, between mile markers 20 and 21, has a parking lot and a short, steep hike that pays off with panoramas of a section of the Bowl of Fire.
Keep in mind that whether you are interested in buying a home or selling a home, a Realtor should represent you– this person is working for your benefit and will help you navigate through the buying or selling process. We have celebrated selling both New and Resale Homes for over thirty years…..
We are here to answer any questions you might have – just email jennifer@smithteamlasvegas.com
Thanks and make it a terrific day…………The Smith King Team