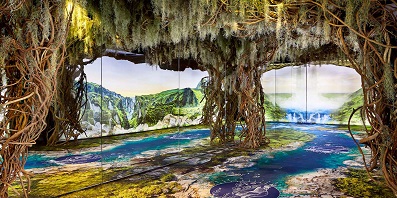 Valentino Vettori was leading a tour of his newest creation: Arcadia Earth, an immersive, 15-room, 17,000-square-foot playground of the senses using 3D art, robotics, pungent scent technology — is that a rainstorm I smell? Yes, it is — augmented and virtual reality, pixelated sharks, painted-glass forests and plenty more high-tech set pieces intended to promote environmental awareness.
There'd better be lasers. Of course there are lasers.
Now it is trivia time in the Rainbow Cave.
Walking through here, it feels like we've entered some luminous, underground dwelling, flush with art installation flourishes in place of stalactites.
"These are 66,000 plastic bags," Vettori states of what's lining the room all around him, "which is the amount of plastic bags that we use every …"
He turns to the reporter at his side to fill in the blank.
"Minute?" comes the guess – wrong!
"A third of a second," Vettori says. "It's insane, right?"
He adds "The solution is a sustainable alternative to plastic. There are new technologies, I feel our mission is to learn about these things."
Flashback to the Summit LA conference in 2017.
Vettori, who has a background in the fashion and trade show industries, was there to create an installation piece on the future of retail.
After that he sat in a session by Paul Hawken, founder of Project Drawdown, a nonprofit dedicated to researching how global warming can be reversed, and author of "Drawdown," a book that enumerates 100 ways for people to achieve that end.
Vettori stated "I went to Paul and I made a vow. I said, 'Paul, I will never cut off the bracelet,' " Vettori recounts. "Because I'm a storyteller, maybe I should change my value proposition in life, and instead of telling stories for the fashion industry, I could help raise awareness of climate change."
"People don't connect with something they don't feel, that was the meaning of Arcadia.  So, instead of being negative, be amazing — and actionable. Instead of saying, 'This is what the problem is,' it's 'You can do something about it.' "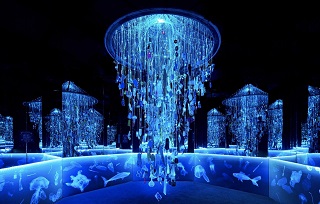 In developing Arcadia Earth, Vettori says that he consulted with organizations in the scientific community like Oceanic Global and the World Wildlife Federation to ensure that all information provided here was accurate.
He leads the way through a red-hued passageway filled with fishermen's nets dangling from the ceiling that were acquired from the docks of Maine, warning of the perils of overfishing. Nearby, the pulsating blue, diatom-adorned walls seem to breathe in a room about where oxygen comes from — 70 percent is derived from the ocean.
The Vegas Arcadia Earth location follows a pop-up version in New York City, which debuted in 2018, self-financed by Vettori.
Vettori was motivated to expand to Las Vegas in part by the city's environmental track record, citing its water and food recycling efforts and the large solar panel fields nearby.
Arcadia Earth is set to open Dec. 23, with tickets going on sale Wednesday. Vettori says that it will be considerably more elaborate and sophisticated than the New York version.
The Arcadia Earth Immersive Exhibit is located on the Las Vegas Strip near the M&M Store.
Keep in mind that whether you are interested in buying a home or selling a home, a Realtor should represent you– this person is working for your benefit and will help you navigate through the buying or selling process. We have celebrated selling both New and Resale Homes for over thirty years…..
We are here to answer any questions you might have – just email jennifer@smithteamlasvegas.com
Thanks and make it a terrific day…………The Smith King Team