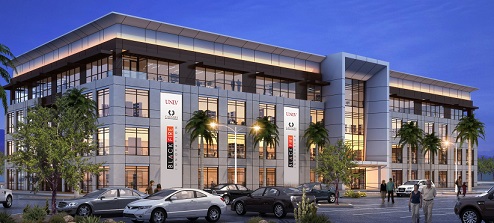 The Black Fire Innovation Hub has been established to continue the transformation of UNLV into a hotbed for technology research and development in the hospitality field in Las Vegas.  It represents UNLV's first foray into the world of business accelerators where ideas can take shape and startups flourish, said Bo Bernhard, who took over as UNLV's vice president of economic development this year.
The building opened its doors in January 2020  and the goal  is: bringing the university and local business community together to test and develop ideas and products in the gaming and hospitality spaces.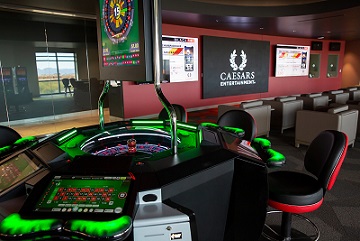 The focus on innovation is evident at every turn inside the 43,000-square-foot space. There's the mock resort, complete with a casino floor and sportsbook, hotel rooms where the latest in UV-sanitizing robots and connected technologies are being tested, and a kitchen and dining area. There's even "Gita," a small cobot — a collaborative robot — on wheels that can follow a stadium beer vendor around while carrying the beer, saving them from having to carry it on their back or shoulder.
Black Fire now has 80 companies with space or plan to have a space, including tech giants like Intel, Panasonic and LG. Those 80 companies have a combined value of more than $1.134 trillion, according to Bernhard, ranging from Fortune 500 companies down to small businesses with just two employees.
Black Fire is the first and the flagship building at the Harry Reid Technology Park, but it will soon have company.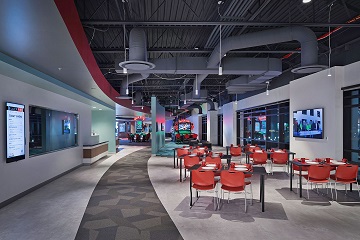 There is a second building is currently under construction at the park, one that will closely mirror the setup of Black Fire. UNLV already has commitments from "two major tech companies" who plan to open an office at the building.
A third building is being built by tech giant T-Mobile, and the fourth planned building for the tech park will be focused on medical technologies.
Keep in mind that whether you are interested in buying a home or selling a home, a Realtor should represent you– this person is working for your benefit and will help you navigate through the buying or selling process. We have celebrated selling both New and Resale Homes for over thirty years…..
We are here to answer any questions you might have – just email jennifer@smithteamlasvegas.com
Thanks and make it a terrific day…………The Smith King Team