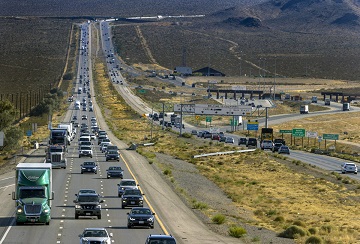 Finally, Governors Sisolack and Newsom are going to give drivers "immediate relief" in a five-mile area for those that make the congested trek along Interstate 15 from Las Vegas to Southern California.
This joint announcement was announced on Sunday morning by Nevada Gov. Steve Sisolak and California Gov. Gavin Newsom. Newsom said his state is putting roughly $12 million into a project to temporarily expand the southbound highway from the California-Nevada state line to the California Department of Food and Agriculture Station in hoping to reduce the bottleneck that occurs as the highway goes from three lanes to two starting at Primm.
The California Department of Transportation will be responsible for repaving and restriping the shoulder of the roadway in the corridor so that it can be used as a part-time third lane during peak congestion times, primarily Sundays and Mondays.
This expansion project will add temporary relief on that stretch of I-15 that sees holiday weekend traffic back up more than 20 miles from Primm to the Las Vegas Valley.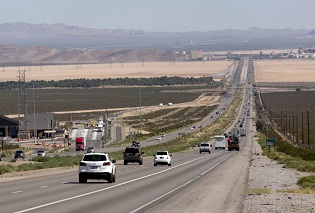 They expect to start this project in spring 2022 and be completed by the summer according to Newsom. More long-term solutions, such as a permanent third lane, will be discussed over the coming months.
Las Vegas Mayor Carolyn Goodman has been calling on California and federal officials to step in to develop a fix to the traffic nightmare on her social media pages.
The logistics of how the temporary third lane would operate, such as what would be considered peak hours and how first responders would get to emergencies if the shoulder is being used as a travel lane, will be worked out over the next several months.
Keep in mind that whether you are interested in buying a home or selling a home, a Realtor should represent you– this person is working for your benefit and will help you navigate through the buying or selling process. We have celebrated selling both New and Resale Homes for over thirty years…..
We are here to answer any questions you might have – just email jennifer@smithteamlasvegas.com
Thanks and make it a terrific day…………The Smith King Team