This year home improvement contractors are expecting to be busier than ever. There is a labor shortage, and supply chain issues are still being sorted out as we enter 2022. The best advice to give you is to plan. The further ahead you can get on a contractor's schedule, the smoother your project is likely to go. Booking early gives you additional time for planning and design and more room for contractors to line up materials and labor. Here's a rundown of some major home projects and their costs.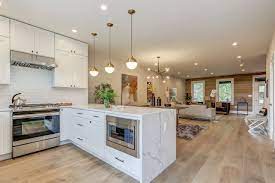 Remodeling your kitchen, in most homes, this room is the heart of your home, and it is also is one of the most rewarding projects a homeowner can take on. The kitchen, in most cases, can be among the most costly and overwhelming rooms to remodel, so joining forces with a reliable kitchen designer and contractor early on is a good idea. The advantage is enormous as it has an excellent return on investment for your resale value.
The kitchen is often the home's social center, so think about how you want it to interact with the rest of the house when you're entertaining. Many people like to have the open kitchen concept so you and your guests can mingle while putting the finishing touches on what you are serving.
National average: $13,000-$38,000
Installing a swimming pool adds luxury far and above any other addition to your home. Pools offer many years of enjoyment, and an in-ground model will enhance your home's value.
When hiring a swimming pool installer, do the work on researching them and solicit multiple bids. A pool is a significant investment that will take several weeks to install; however, you'll be enjoying the water before summer if you start in the early spring. It's worth it to take extra time to get the right professional.
National average: $36,000-$66,500
If you are planning to remodel any of the above, you are doing your planning and hiring the professionals now. If you need recommendations, please contact the Smith King Team for referrals. We only deal with the best of the best. 
Keep in mind that whether you are interested in buying a home or selling a home, a Realtor should represent you– this person is working for your benefit and will help you navigate through the buying or selling process. We have celebrated selling both New and Resale Homes for over thirty years…..
We are here to answer any questions you might have – just email jennifer@smithteamlasvegas.com.
Thanks, and make it a terrific day…………The Smith King Team